Explore San Francisco on a Segway Tour / Explore Golden Gate Park !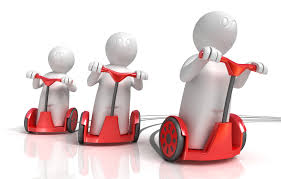 Did you know that you can rent Segways and easily ride all through Golden Gate Park from east end to west end and see Ocean Beach.
Ride North to Sea Cliff and to the Marina and Fisherman's Wharf for spectacular views of Golden Gate Bridge and Alcatraz.  See all the wonderful points of interest on the way and back.
It is very easy to navigate these scenic routes on a Segway, enjoy the freedom of traveling these distances without being confined to restricted tours that charge you a lot of money and show you very little. Travel at your own pace, stopping for photos, lunch, etc. at your own leisure. This can all be done in 2-2.5/3hrs. Maps are provided or Use Google Maps on your Smart phone. You will get the best photo opportunities for the best memories and have a blast doing it.
The San Francisco Segway Tour is the perfect tour for both those new to the city and San Francisco veterans. For the beginners, this rental/tour will offer you a fantastic orientation and give you an opportunity to see all of the sites you've read about. After riding with us we're sure you'll both agree that riding a Segway is the best way to see the City by the Bay.